AJ Wrought Iron approached Morpheus Studios to help them improve their website and to provide Search Engine Optimization (SEO) services.  Their main goal was to increase the number of new customer leads. When we reviewed their website, we found areas where we could help them improve their website, and achieve that goal.
Issues with their existing website
Faulty Contact Form:
The website's contact form had ceased to forward messages to the customer.  This, of course, was the entire purpose of the website!  This issue meant that they had missed several months worth of leads from new customers.
Product Visibility:
AJ Wrought Iron has created thousands of high-end custom iron products for their clients, but their site did not display them well.  Every product image was very small and lacked detail. It was difficult for potential customers to get a good idea of the quality and craftsmanship that these craftsmen deliver to their customers.
Lack of Responsive Design on Mobile Devices:
Their existing site was never designed to display well on phones and tablets.  This makes for a frustrating viewing experience.  We know that more than 60% of web users now user their phones to view websites, so it became evident that their site was not converting these site visitors into potential leads.
Difficult to Update:
It was difficult to get new projects posted to their site, so the content was becoming stale.  The previous website provider was great at selling the client on their services, but when they asked for changes or additions to their site, they seemed to disappear.  The customer's frustration lead them to look towards a more client friendly company who was available to answer questions and keep their site current.
Solutions:
Branding and Design Improvements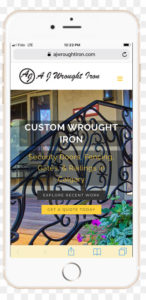 We moved their site to the WordPress framework and installed a modern website design.  We re-created their site by adding bright yellow accents to the interface, sharp fonts, and modern design elements.  We added bold buttons leading to contact forms to make customer contact easy and straight forward.  We also added graphic blocks and prompts to add visual appeal.    We added full width images and image galleries with product names to help customers identify designs that interested them.  The new design delivers responsive layouts that will look great on mobile devices, tablets, and desktops.
Portfolio:
We added a new section for recent projects.  This enabled us to showcase some of their largest and most impressive projects.
Photography:
We visited several of their project sites and took an array of high-resolution professional photos. We also added the ability to zoom into photos, enabling desktop users to zoom into product details.  Anyone interested high-quality work can now see proof that AJ is a high-quality provider.




Leveraging Existing SEO Investment:
They had already invested in SEO with another company, so we didn't want to mess with the site structure too much.  The site was receiving traffic from the search engines, and we wanted to avoid disrupting their existing traffic.  We re-built the site design, but kept the existing pages and information to avoid losing existing traffic and leads.  We then added a blog roll, and a recent projects section, thus expanding the number of pages available to the search engines and capturing more traffic from interested customers.  We added some SEO optimizations to improve the site organization and used Google's web master tools to inform Google of the changes.  We successfully improved the overall readability of the site while maintaining existing traffic.
Website Speed Improvements
We were able to lower the amount of time a prospective customer would wait for the website to load in their web browser.  We utilized various techniques to turbocharge their site speed.  Some of these include optimizing server software, optimizing images, using caching and minimization techniques, streamlining WordPress, and improving their DNS response times with cloud DNS services.  In short, they now have a site with large images that loads very quickly.  Customers no longer wait for the website to load.  Instead, they can now easily click around and look at as many high quality images and product designs as they like.  The website runs like a well oiled machine.
Tracking of Performance and Leads:
The previous site did not have basic web analytics setup.  They had no way to track the progress of their Search Engine Optimization efforts and had no way to track the number of visitors to their site, or how many visitors contacted the company via their website.   This was a major omission in our opinion.  If you don't track your site's progress, how do you know its working as a valid marketing asset?
After placing appropriate analytics software on the site, we are now able to gather information about the website's performance.
For example, we now know:
which keywords their customers use to find AJ Wrought Iron,
how many times visitors re-visit the website,
how many customers visit the website,
the most profitable keywords,
how long they stay on the website,
how many pages they view,
weather or not they view the contact pages,
the percentage of visitors contacted the company for a quote,
the demographics of customers,
Result
The new site is more vibrant and has more interesting content to browse.  Customers can take their time and gather design ideas from a multitude of photos and projects on the new site.   Once they find something they like, the streamlined site makes it easy to contact the company for a quote.
The improved quality of the graphic design has given prospective customers more confidence in AJ Wrought Iron. The improvement of their brand is evident by an increased the number and quality of leads they are now receiving.   When new customers find AJ Wrought Iron for the first time, they are greeted by professional presentation, plenty of quality product examples and an easy way to contact the company.
SEO and an Increase in New Customers
Improved Search Engine Optimization and additional photography have increased the number of new customers who find this company online.  But more importantly,  a higher percentage of website visitors are now contacting the company to do business with them.
More Requests for Expensive Custom Work.
One of the most noticeable improvements was an increase in requests for their most expensive custom designs.  The new project portfolios now give customers a much clearer understanding of the high-end work available and this is prompting more quote requests.